Better World Naturals Becomes World's First Clean Label Project-Certified Ingredient Manufacturer
The plant-based ingredient manufacturer sets the new standard within the fragmented plant-based ingredient market by winning Clean Label Project Certification for its ginseng and rosemary extracts.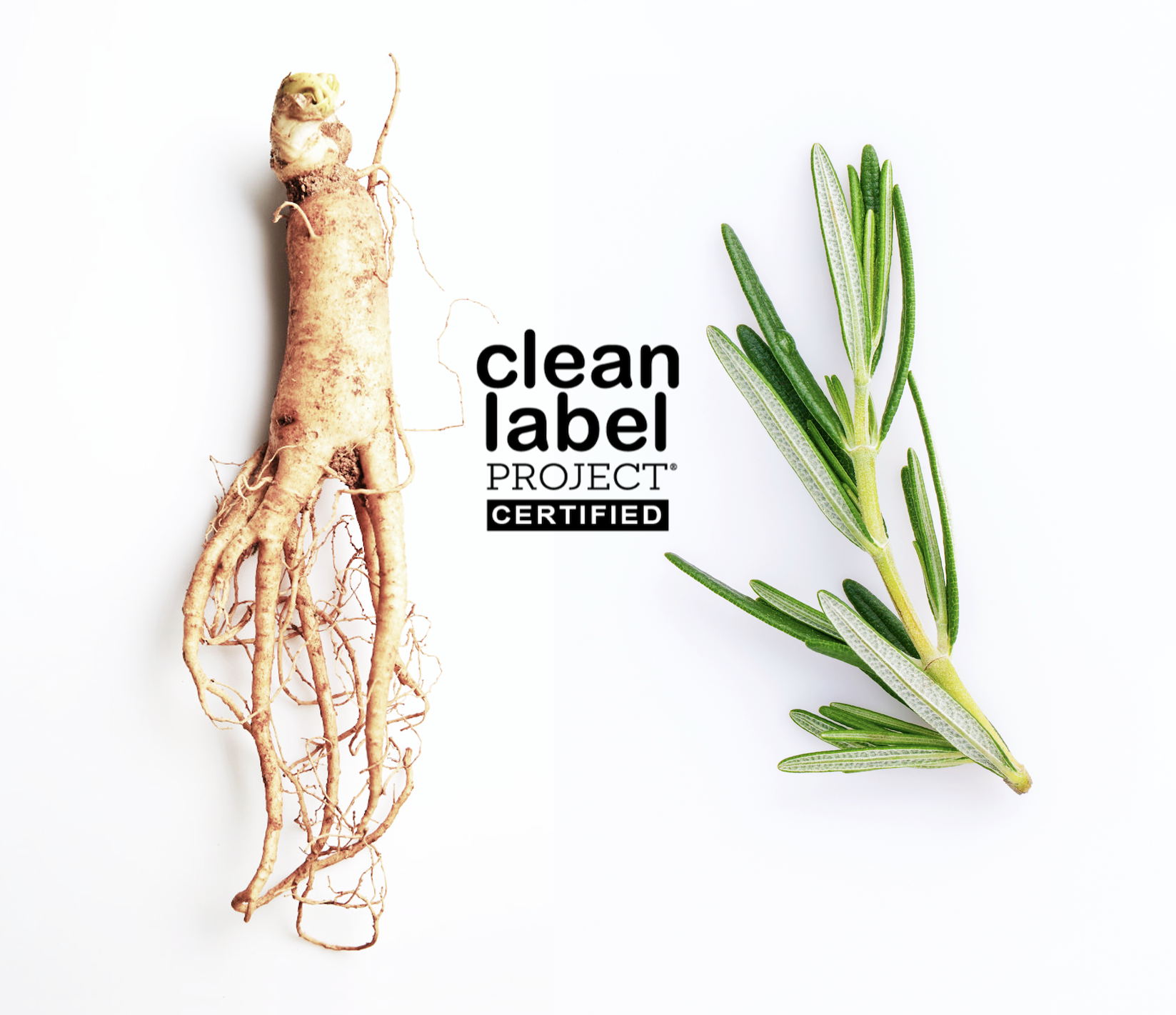 Friday, June 26, 2020
Shanghai, China, 26 June 2020 – Better World Naturals, the plant-based ingredient manufacturer with a vertically integrated supply chain to guarantee consistent and sustainable quality and authentic natural extracts, has become the world's first ingredient manufacturer to earn Clean Label Project Certification. Clean Label Project, the leading non-profit organization that uses data and science to bring transparency to consumer product labelling, awarded the certification after subjecting Better World Naturals to its rigorous assessment process.
Food and dietary supplement quality scandals have dented consumer trust and intensified scrutiny of the integrity of the supply chain. Today, the industry's effort to regain trust is being complicated by COVID-19 and its impact on in-person audits, amplifying the importance of testing and certifications as gatekeepers for quality and authenticity. Against that backdrop, brands are reformulating products to meet public demand for clean-labelled products.
Plant-based, naturally sourced ingredients are good fit for the clean-label agenda, but the use of such materials exposes brands to new challenges. Notably, plant-based ingredients can be contaminated with substances such as heavy metals, pesticides, mycotoxins, and plasticizers, or adulterated with undeclared compounds and non-compliant plant species. The discovery of such contaminants and adulterants in a product can significantly damage a brand's standing with consumers.
Clean Label Project Certification signifies that consumers can trust products that contain Better World Naturals' ginseng and rosemary extracts. Through the certification, Clean Label Project has recognized Better World Naturals' work to ensure the integrity of the supply chain by providing clean ingredients to food and dietary supplement manufacturers and increasing consumer transparency. The certification is important given concerns about the negative health effects of contaminants.
"At the Clean Label Project, we believe that sometimes what's NOT on a label is what matters most. The long-term threat of cancers and reproductive disorders linked to industrial and environmental contaminant exposure have largely gone unnoticed, untested, and therefore unregulated in food and consumer products, until now. Clean Label Project Certification addresses that gap by building on the strictest regulation in the US by evaluating products to protect consumers from contaminants and chemicals of concern," Jaclyn Bowen, Executive Director of the Clean Label Project, said.
Better World Naturals' status as the world's first ingredient manufacturer to get Clean Label Project Certification is testament to its approach to supply chain integrity. Rather than rely solely on testing, which can fail to detect all contaminants and adulterants, Better World Naturals has implemented a vertically integrated supply chain called PREVENT4TRUST. The goal is to prevent quality issues by proactively raising standards and mitigating threats from the field to the formulated ingredient.
"Tests and certifications are an important guarantee of quality for our customers and consumers. Nevertheless, we believe testing alone cannot guarantee quality in the long term. Rather, at Better World Naturals we complement testing with traceability, working with farmers in the field to ensure consistent standards while shortening supply chains to improve quality control. The model benefits all stakeholders, with farmers getting guaranteed revenues and brands receiving consistently high quality ingredients," Laurent Zheng, Founder and General Manager of Better World Naturals, said.
About Better World Naturals
Founded in 2018, Better World Naturals is a joint venture of MITSUI and Huabao. Better World Naturals was created to provide quality natural ingredients utilizing a trusted and transparent, vertically integrated supply system. For decades, global suppliers have sourced their branded ingredients from China. Better World Naturals has engaged the expertise of the skilled history and resources of China to bring these natural ingredients directly to you.
Cluster Creonomyca invites you to visit the Russian Robotics Week 2020, which will be held on September 21-27, 2020 in Saint Petersburg, Russia.
Russian Robotics Week is a complex of Congress and exhibition events on industrial robotics, which includes an international Forum of industrial robotics, with the participation of leading industry experts, a thematic exhibition, student competitions in the format of Robotics Skills, seminars, master classes, etc. In Russia, the Robotics Week has been held annually since 2019, in Saint Petersburg. You can find out more information on the website – http://www.roboticsweek.ru
Forum events within the framework of the Russian Robotics Week are held in Russia, in St. Petersburg and involve an exhibition of industrial robotics and a conference including plenary and panel discussions.
The Forum is planned to be attended by managers and leading specialists of such major Russian and global companies as KAMAZ, United Shipbuilding Corporation, Tikhvin Freight Car Building Plant, Savushkin product, Caterpillar, Unilever, Siemens, as well as leading robot suppliers such as Kuka, Inrotech, Rethink Robotics, system integrators, manufacturers of software for programming and controlling robots, such as Visual Components, Delfoi and many others.
The Robotics Skills competition will be attended by schoolchildren, students of colleges and Universities, teams of various enterprises and clubs in such areas as industrial and collaborative robotics, mobile and service robotics, robot programming, etc.
Russian Robotics Week brings together the main market participants - leading vendors and distributors of industrial robotics, system integrators, suppliers of technological equipment and other equipment used together with robots, suppliers of digital programming and control systems for robotic and automated equipment, as well as representatives of industry, science and education. All participants of the event can discuss their concerns, hear feedback and establish contact for further effective work.
For partnership questions, please contact:
Manager of the Organizing Committee of the Russian Robotics Week 2020.
Ekaterina Polikarpova, tel. (812)644 01 26 E-mail: This email address is being protected from spambots. You need JavaScript enabled to view it.
Vitafoods Europe transition to a large-scale virtual event in September 2020
A couple of months ago, as the world was preparing to go into lockdown in response to the global COVID-19 crisis, we announced the postponement of Vitafoods Europe. In light of the ongoing situation, and in consultation with key stakeholders across the health and nutrition community, Vitafoods has made the difficult decision to cancel the live event Vitafoods Europe in Geneva, Switzerland, originally rescheduled for the 1-3 September 2020.
Instead, Vitafoods will transition to a large scale virtual event, the Vitafoods Virtual Expo, at the start of September. Offering enhanced matchmaking opportunities, video networking and high-quality educational content, the Vitafoods Virtual Expo will be taking place from 7th to 11th of September 2020. The Vitafoods team is working through details that will support this transition and will be sharing updates via our website and social media platforms in the coming weeks.
We understand how important Vitafoods is to the industry and how much effort goes into preparing for it and so, in this difficult time, we would like to thank our community for its understanding and support.
We're looking forward to continuing to drive our industry forward, connect our communities and support businesses, together.
The Vitafoods Team
Canada International Meat Exhibition
Exhibitions are the KEY to Rebuilding the Economies
Exhibitions connect businesses. At exhibitions throughout the world, notable moments happen all the time, products are lunched, innovation are born, leaders meet, government officials discuss critical topics, businesses are developed.
Exhibitions' main goal is to represent, promote and support the business interests of its exhibitors and visitors.
As we announced before, Canada's Leading International Meat Industry TradeFair, MeatEx Canada, will now take place from 4 – 6 February 2021 at the Enercare Centre in Toronto.
MeatEx Canada is currently in coordination with health authorities and Enercare Center to resume trade fairs as part of new hygiene and safety concepts. Some measures would have a strong influence on our plans, that is why we would like to wait for the feedback from the authorities to avoid rescheduling after placement confirmations
All allocation, invoices and payments of our exhibitors participating in 2020 will be transferred to 2021 edition.
New MeatEx Website Now in Development!

We are excited to inform you that the new MeatEx website is officially now in full development.

The new site will provide our partners, exhibitors, and attendees an exciting new digital destination to register and learn more about the upcoming MeatEx & Meat SHOW 2021. It also includes Modern Workshops and the Innovation Zone, which will keep the many thousands of trade buyers and industry professionals in tune with new market developments. And the most important futures: virtual exhibition and webinars, which are in line with the new needs arising from this pandemic.

Featured on the website will be our easy-to-use online registration application. Exhibitors will be able to select and customize their booth requirements. Attendees will be able to register and purchase their tickets well in advance. All users will have access to the MeatEX website using any mobile, tablet or desktop device from anywhere in the world!

We are looking forward to launching the new website until this summer. Stay tuned for more news and updates.
We will continue to keep you all updated on event news in the days, weeks, and months ahead.
Now, more than ever, it is important for us to come together and ensure business continuity.
For now, please stay safe, stay healthy, and

Be Ready for the Big Jump Back to Your Business with MeatEx Canada
About MeatEx
MeatEx is Canada's premier annual exhibition featuring the important ways our global meat industry is moving into the future. International exhibitors meet with meat-processing industry and butchers' trade buyers, specifiers and leaders to showcase their high-tech processing equipment, their newest packaging and food safety products or services that support the growing demands for global meat quality.
Held over 3 days in Canada's largest city Toronto, MeatEx Canada focuses the spotlight on the quality and diversity of the Canadian meat industry in its entirety. It is the foremost innovation venue that brings together the best of the key domestic and international players from the meat industry, retail trade and butcher's trade.
MeatEx is the only specialized trade fair dedicated to the meat industry in Canada targeting the complete range of meat products, meat-related machinery, equipment and technology for meat production, meat processing, meat retailing and meat services.
Anuga 2021: Secure early bird discount for the no. 1 event!
Dear Sir or Madam, Anuga is the world's largest trade fair for food and beverages. It is trailblazing for the global industry - it shows the direction, presents the developments of the future and sets the decisive impulses.

The most important decision-makers from all over the globe will be on-site in Cologne, always on the lookout for the most exciting innovations and new partners – the impressive figures of 2019 can be found here.

Comprising of ten trade shows under one roof, a unique event and congress programme, Anuga is also the perfect platform for your new products and your line-ups.

Take advantage of the appeal of the leading global food trade fair, present your company and your products to the global industry here - and set decisive impulses for your business.

An additional benefit for you: As an early booker you not only save cash, but also have more influence on the location of your stand – and thus the success of your participation. Secure your exhibition space in good time!

Our team is available to assist you with your planning at all times. Allow us to show you the many options for presenting your innovations - together we will find the perfect solution for displaying your products!

Of course, we are keeping a constant eye on the current situation. As of today's status, Anuga will take place in Cologne on the planned venue date from 9 to 13 October 2021. All current information on the theme Corona can be found on our website.

Kind regards from Cologne,
Stefanie Mauritz
Director
| | | |
| --- | --- | --- |
| | ANUGA 2021: Become an exhibitor! | |
ANUGA is entering the next round: From 9 to 13 October 2021, the global market awaits you once again in all its diversity.

It is worth being quick off the mark: Up until 30.09.2020 you can benefit from our attractive advance sale price when booking your ANUGA stand area.