5 ways to stay productive on Slack
With you and your team working and collaborating from home, I am sure you are also using Slack for team communications and team collaborations. But are you and your team staying productive?

Here are top 5 ways you can stay productive while using Slack - from message reminders to keyboard navigations. These well researched tips and tricks will help you get most out of slack.
Happy reading!
Santhosh and the HelloLeads team
AAK joins forces with Good Food Institute India to drive innovation in India's plant-based foods category
Monday, May 18, 2020
AAK Kamani, AAK's majority-owned Indian joint venture, has partnered with the Good Food Institute India to collaborate on research and business promotion aimed at advancing India's highly promising market for plant-based meat and dairy alternatives.
Through the partnership, AAK's Customer Innovation Center in Mumbai will host AAK KAMANI ACADEMY™ sessions designed to help businesses and entrepreneurs take advantage of the significant opportunities that exist in India's plant-based foods category.
With support from the Good Food Institute India, AAK will also provide co-development expertise on how companies can accelerate the formulation of new products, with a particular focus on achieving optimal texture and appealing to local tastes. The collaboration is closely linked to AAK's global AkoPlanet™ initiative, which provides a platform for plant-based food innovations.
Dheeraj Talreja, President of AAK Kamani, said: "This collaboration means we can provide more support to both established food producers and start-ups, promoting the fast-track development of plant-based meat and dairy alternatives for the Indian market. We are particularly excited to work with the Good Food Institute India. As a non-profit organization, it is globally recognized for supporting the development of sustainable and healthy plant-based foods."
Niall Sands, President Plant-based Foods at AAK, added: "Developing great-tasting plant-based foods is one of the main challenges today. There are a lot of good products on the market already. However, to maintain the growing interest in plant-based foods we must continue to improve the sensory experience. From a global perspective we also need to be mindful of the need to adapt to regional taste preferences. This is why I'm so pleased to start our collaboration with the Good Food Institute in India."
Varun Deshpande, Managing Director at the Good Food Institute India, commented: "The challenges of climate change, antimicrobial resistance and food insecurity presented by the world's reliance on animal protein supply chains have been underscored by the COVID-19 public health crisis. Accelerating the development of the plant-based meat, egg and dairy sector is therefore imperative to building a more secure and resilient protein supply. Indian businesses and scientists have immense potential to be at the center of this development, driving affordability and sensory experiences as well as cultural appeal in transformative plant-based foods – but they need support on their journey. We're delighted to have pioneering corporate partners like AAK Kamani in our mission for smart protein. Their ingredients and co-development expertise will be integral to building a more healthy, sustainable and just global food system."
About GFI
The Good Food Institute (GFI) is a global network of nonprofits which accelerates the sector of plant-based, cultivated, and fermentation-based meat, eggs, and dairy – also known as the alternative protein or smart protein sector. GFI has affiliates in India, the United States, Israel, Brazil, Asia Pacific, and Europe, with teams of experts across science, corporate engagement, and policy who are laser focused on using markets and food technology to transform our food system. GFI India works closely with corporations, entrepreneurs, government agencies, investors, philanthropists, and other key stakeholders to build a better protein supply in the region.
About AAK
AAK is a leading provider of value-adding vegetable oils & fats. Our expertise in lipid technology within foods and special nutrition applications, our wide range of raw materials and our broad process capabilities enable us to develop innovative and value-adding solutions across many industries – Chocolate & Confectionery, Bakery, Dairy, Special Nutrition, Plant-based Foods, Foodservice, Personal Care, and more. AAK's proven expertise is based on more than 140 years of experience within oils & fats. Our unique co-development approach brings our customers' skills and know-how together with our own capabilities and mindset for lasting results.
Listed on the Nasdaq Stockholm and with our headquarters in Malmö, Sweden, AAK has more than 20 different production facilities, sales offices in more than 25 countries and more than 3,800 employees.
We are AAK – The Co-Development Company.
Global ingredient manufacturer brings natural food safety solution for meat, poultry and seafood to the Asia-Pacific region
SINGAPORE (February 20, 2020) – Kemin Industries, a global ingredient manufacturer that strives to sustainably transform the quality of life every day for 80 percent of the world with its products and services, has launched its all-natural antimicrobial solution, BactoCEASE® NV, for the food industry in Asia.

As its name indicates, BactoCEASE NV is proven effective in delaying the growth of bacteria in meat, poultry and seafood products, and proven to keep the total viable count of microorganisms within the regulated standard. A natural antimicrobial, BactoCEASE NV replaces synthetic solutions to meet the growing consumer demand for clean-label ingredients. BactoCEASE NV can extend the shelf life of food products just as effectively as synthetic preservatives without negatively impacting the product's texture or flavor. It can replace sodium lactate, sodium diacetate and other artificial antimicrobials in food production.

Meat products tend to have a short shelf life because they are highly susceptible to deterioration in quality and contamination by foodborne microorganisms. These factors can cause biological and chemical changes in meat, leading to food safety concerns.

Globally, microorganism contamination is one of the main factors that results in food recalls. Common bacteria such as Salmonella, Escherichia coli and Staphylococcus Aureus, as well as cold-tolerant pathogens like Listeria monocytogenes, cause serious foodborne health hazards.

"The world population is growing at a rapid rate, and we need smart and innovative solutions to make our resources go the extra mile," said Michelle Lim, President, Kemin Food Technologies – Asia. "Our latest solution, BactoCEASE NV, highlights Kemin's commitment to sustainably transform lives around the world. This commitment starts with the products we develop. We aim to focus our sustainability on healthy people, a healthy planet and healthy business. BactoCEASE NV, an antimicrobial shelf-life solution, helps ensure food safety for people, reduces food waste for the planet and, thus, provides assurance of quality and safety to food brands and businesses."

According to the United States Department of Agriculture's Food Safety and Inspection Service, 7.9 million kilograms of meat and poultry products were recalled due to bacteria contamination in the U.S. in 2018 alone. A study conducted by associate professor Robert Scharff from Ohio State University found that medical costs, productivity losses and repercussions due to death or lost quality of life caused by foodborne illnesses cost the U.S. as much as USD$93.2 billion annually.

Kemin's antimicrobial solution BactoCEASE NV targets global concern over foodborne pathogens. A naturally derived, acetic acid-based ingredient, BactoCEASE NV is able to delay the growth of foodborne microorganisms and meet microbiological food safety criteria of total aerobic microbial count and total coliform microbiological standards under food regulations.

BactoCEASE NV is suitable for use in both ready-to-eat and cooked meat products, such as marinated meat, freshly cut meat and even processed meat. In one study conducted by Kemin customers, BactoCEASE NV extended ready-to-cook meat products' shelf life by an additional 80 percent. This extension in shelf life allows food manufacturers to gain cost savings in terms of food waste, resource allocation and supply chain efficiency.

Click here to learn more about Kemin Food Technologies – Asia.
Take part in the great food consultation
Health, transparency, eco-responsibility, fair prices…in the face of
ever-increasing consumer awareness
and the
exponential growth
of the worldwide population, the transformations taking place in the agri-food industry have never been so profound.
In the lead up to SIAL Paris on 18-22 October, we are launching a rallying cry to incite the entire food industry to
Take Action for Better Eating
. From January to June 2020, we are rolling out the
Great Food Debate
in partnership with the civic-tech platform
Make.org
. The aim is to respond collectively to one of the most pressing questions of our era:
How can we provide healthy food to an ever-growing population while respecting the environment?
World food professionals submit solutions to empower the collective intelligence.
Be part of them.
This consultation is dedicated to agri-food professionals,
with propositions based on their expertise
The 2020 edition will launch a new dynamic by opening debate around a powerful and unifying theme:
#OwnTheChange
. At a time of transitions, reinventions and global social responsibility,
SIAL Paris is reaffirming its ambition by uniting food professionals around the major transformations taking place in the industry.
SIAL is also a founding member of the Great Cause "Taking action to eat better " alongside Make.org and its partners.
| | |
| --- | --- |
| | Make.org Make.org is an independent, non-partisan and transparent civic tech. Our goal is to engage millions of citizens on general interest topics in order to transform society. We have developed a unique digital consultation tool allowing massive citizen participation on an open question, with clear and actionable results focusing on consensus. Our online consultations can be complemented by deeper concertations phases aimed at turning these consensuses into concrete actions. Make.org was founded in 2016 by Axel Dauchez. Paris based, the company employs 40 people dedicated to bringing our vision to life. Our independent Ethics Committee ensures our neutrality and transparency. |
Trending in 2020: Shades of Aqua set to strengthen bonds with the natural world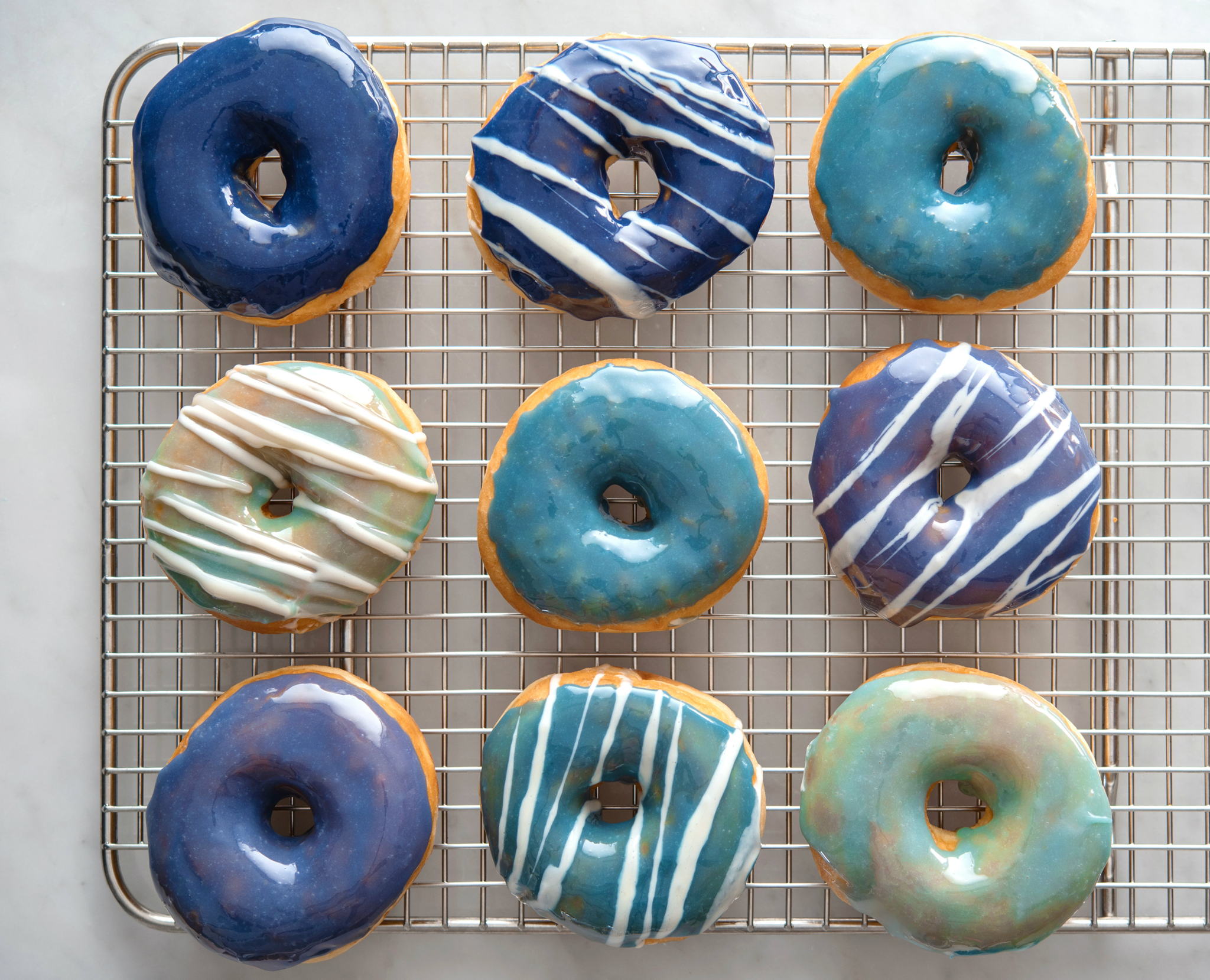 Tuesday, 3 December 2019
'Shades of Aqua' will be the key food & beverage color trend for 2020, with vivid blues and greens set to drive innovation as shoppers seek products that re-connect them with nature.
The forecast has been made by GNT Group, supplier of EXBERRY® Coloring Foods, which says that demand for Shades of Aqua will also be powered by a quest for holistic wellbeing1 and demand for new and unique food & beverage experiences that will pop out when shared on social media.
Maartje Hendrickx, GNT's Market Development Manager, commented: "Shades of Aqua evoke marine environments and mountain landscapes, conveying a sense of health and wholesomeness and strong links with the outdoors. Green is rooted in nature. It is a positive identifier for nutrition and signifies freshness and organic goodness. Blue evokes the ocean garden. It conveys a sense of relaxation and calm and is impactful on social media."
To enable food and beverage companies to harness the appeal of Shades of Aqua, GNT has developed a range of green and blue EXBERRY® Coloring Foods with clean-label appeal. They are made from spirulina, an algae that contains phycocyanin, a naturally occurring coloring component. They are the perfect replacement for artificial colorants, including brilliant blue and patent blue, and other additives such as copper chlorophyllin.
Shades of Aqua Coloring Foods will be at the heart of GNT's new Love Color with EXBERRY® initiative for 2020. They will also be a primary focus at Food Ingredients Europe, which takes place from 3-5 December 2019 in Paris, France. GNT will exhibit on Stand 6C80.
Maartje Hendrickx added: "Shoppers want food & beverage products that are 'clean' and 'simple'.2 EXBERRY® Coloring Foods are aligned with this because they are made using only physical processes and never with chemical solvents. They aren't additives – they're foods. They can be eaten at any stage of the manufacturing process and they qualify for cleaner and simpler label declarations."
GNT's food & beverage color prediction is aligned with the influential Pantone color forecast, which also places greens and blues center-stage.3 Pantone's forecast singles out Nature Remastered – "mossy wild and yellowy greens" – and Mineral Patina – "Indigo dyes seep and stain textiles with tones of blues."
1 Innova Market Insights' Top Trends for 2020
2 Innova Market Insights, Clean & Simple, July 2019
3 Pantone, Viewpoint Colour Issue 05 Organic Matters: Colour Forecast 2020
For more information, contact:
Richard Clarke, Ingredient Communications
This email address is being protected from spambots. You need JavaScript enabled to view it." rel=" noopener noreferrer" target="_blank">This email address is being protected from spambots. You need JavaScript enabled to view it. | +44 1293 763004
About EXBERRY®
EXBERRY® is the global market leader in Coloring Foods. The brand is synonymous with high performance color solutions based on the most natural concept of coloring food with food. EXBERRY® concentrates are manufactured from fruit, vegetables and edible plants using only gentle physical methods such as chopping, heating and filtering. The brand provides the widest range on the market, comprising more than 400 shades. It is suitable for practically all food and drink, including confectionery, dairy and bakery products, soft and alcoholic beverages and savory applications. The concentrates are valued worldwide for their ease of use, brilliance, performance and the complete vertical integration of the supply chain, which ensures full traceability, price and stock stability. In applying EXBERRY® products, manufacturers are assured to receive highly professional support ranging from strategic product development to production integration and regulatory advice. EXBERRY® is the favored color solution used by more than 1,400 food and beverage companies including the leading food and beverage producers in the world.
About GNT
The GNT Group is a family-owned company pioneering in the creation of specialized, future-proof products from only natural ingredients. It is internationally renowned for its EXBERRY® portfolio, the leading global brand in Coloring Foods. Founded in 1978, the company offers unparalleled agricultural competence and process-engineering expertise in delivering solutions from fruit, vegetables and edible plants. GNT is headquartered in Mierlo, The Netherlands, and has global reach with customers in 75 countries and offices in North and South America, Asia, Europe and the Middle East.